Technology
Bottleneck Model
ELMAX / 59HRC
SSPB220 / CBN Super Spiral Ball End Mill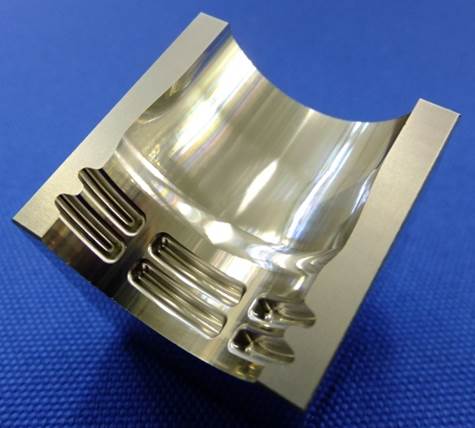 Work size 30×30×30mm
Material : ELMAX 59HRC
Cutting time: 3hr 25min.
SSPB220 realized high quality surface by spiral ball shape to improve sharpness of cutting edge, and by back-taper shape which reduce the influence of vibration.
Tool


•Adopted spiral ball shape to improve sharpness of cutting edge.
•Adopted cutting edge shape to improve the chipping resistance of cutting edge.
•When peripheral cutting edge makes contact with cutting surface, vibration occurs by an increase in cutting resistance and it affects tool life and cutting surface quality. The influence can be reduced by adoption of the strong back taper shape.
•Enlarged standard tool size up to R3 to extend application range.


•MUGEN-COATING PREMIUM for hardened steels and unique new design excel in chipping prevention and resolves chattering to realize excellent finished surface.
•Applicable for hardened steels up to 68HRC.
•Total 190 sizes!
Cutting Condition
Cutting process
Roughing
Semi-finishing
Finishing(Slot)
Finishing(Curving Face)
Tool
MRBH230
R1×6
MRBH230
R0.5×5
SSPB220
R0.5×2.5
SSPB220
R1×5
Spindle speed
(min-1)
25,000
35,000
40,000
40,000
Feed
(mm/min)
2,000
1,600
1,500
1,500
Depth of Cut
ap×ae(mm)
0.2×0.3
0.04×0.1
0.01×0.007
0.01×0.005
Coolant
Oil mist
Cutting time
45min
45min
35min
1hr20min
Comment
Difference in dimension is maximum 0.003mm and surface roughness is less than Rz0.55μm. Realized shiny and high quality surface by using SSPB220 for finishing process.