Technology
DHR237 Copper Tungsten multi profile electrode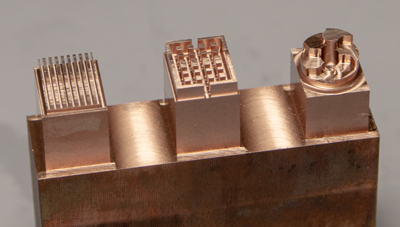 Material : Copper Tungsten (W70%-Cu30%)
Processing size: 6.5×8(mm) Cutting depth1.5mm (Micro slit shape)
6.5×8(mm) Cutting depth1.5mm (Fine prism profile)
6.5×8(mm) Cutting depth 3mm (Cylindrical stage profile)
Tool


●Long neck end mill specialized for machining copper alloy.
●Helix angle 【37.5°】 degrees to achieve both sharpness and finished surface quality that prevents scratches on cutting surface.
●High quality and stable milling performance with long tool life by optimized design and DLC coating.
●Machining copper tungsten electrodes is also effective.
Cutting Conditions & Measuring result
Micro slit shape
【Cutting condition】
Process
Roughing(Slotting)
Finishing(Side milling)
Tool
DHR237 Φ0.3×1
DHR237 Φ0.3×2
Spindle speed
(min-1)
25,000
Feed
(mm/min)
200
100※
150
Depth of cut
ap×ae(mm)
ap 0.01
ap 0.005※
0.1×0.005
Stock
(mm)
0.005
-
Coolant
Water-insoluble fluid
Cutting time
42min
12min
※Guide part machining from the upper surface to -0.05mm.
Result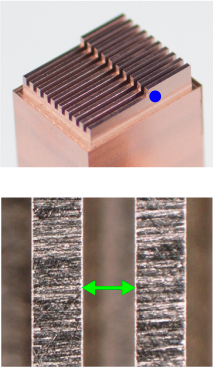 Side
| | |
| --- | --- |
| Surface roughness | Ra0.101µm |
Slot width
| | |
| --- | --- |
| Target | 0.310mm |
| Actual | 0.307mm |
| | |
| --- | --- |
| Deflection | Within 0.001mm |
【Points of machining】
To make the deflection amount minimize at slit profile as much as possible, we applied the following method:
1.In order to make a "guide" to prevent the tool from deflection, the feed rate and depth of cut are reduced up to a position of -0.05 mm from the top surface of the slit.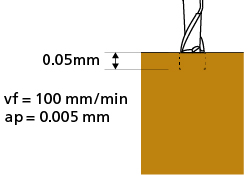 2.The area below the "guide" is machined with normal cutting conditions.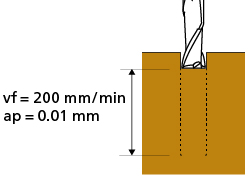 3.The effect of making the guide suppresses tool deflection, and was able to machine highly accurate slit profile with little deflection error.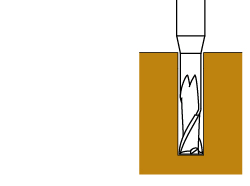 Fine prism profile
【Cutting condition】
Process
Roughing
Finishing
Slotting
Side milling
Tool
DHR237 Φ0.5×1.5
Spingle speed
(min-1)
26,000
Feed
(mm/min)
500
550
Depth of cut
ap×ae(mm)
ap0.07
0.3×0.02
0.3×0.005
Stock
(mm)
0.05
0.005
-
Coolant
Water-insoluble fluid
Cutting time
13min
【Measuring result】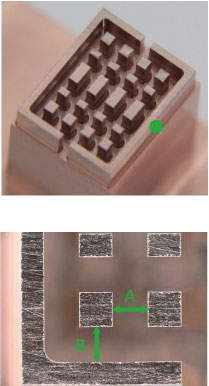 Side
| | |
| --- | --- |
| Surface roughness | Ra 0.197 µm |
Slot width
| | | |
| --- | --- | --- |
| | A | B |
| Target | 0.600mm | 0.600mm |
| Actual | 0.601mm | 0.599mm |
| | |
| --- | --- |
| Deflection | Within 0.001mm |
Cylindrical stage profile
【Cutting condition】
Process
Roughing
Finishing
Φ1.8 Helical milling
Side milling
Tool
DHR237 Φ0.8×3
Spindle speed
(min-1)
12,000
Feed
(mm/min)
500
Depth of cut
ap×ae(mm)
ap0.07
(Helical R=0.25)
0.5×0.02
0.5×0.005
Stock
(mm)
0.25
0.005
-
Coolant
Water-insoluble fluid
Cutting time
33min
【Measuring result】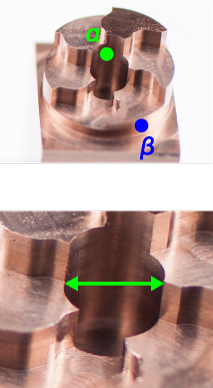 Surface roughness
| | |
| --- | --- |
| α | β |
| Ra 0.182 µm | Ra 0.176 µm |
Center hole diameter
| | |
| --- | --- |
| Target | 1.800mm |
| Actual | 1.797mm |