Technology
Connect Model Cemented Carbide PCDSE / PCD End Mill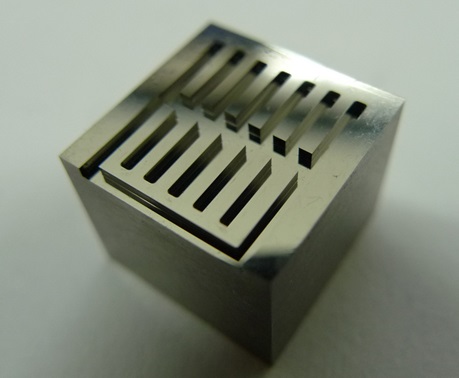 Work size: 10×10(mm)(Cutting Depth: 0.5mm)
Material: Cemented Carbide (92.5HRA)
Cutting time: 21hr 59min
Even if it was a long time Cemented Carbide machining, NS TOOL's PCD end mill still can achieve high quality finished surface.
Tool


• Fine and stable milling surface realized on cemented carbide material.
• Possible to get the nano-level surface roughness required on ultra-high precision machining.
• NS original flute design of cutting edge enabled a strong resistance against wear and chipping.

• Machinable on hard brittle materials such as cemented carbide material and ceramic.
• High adhered diamond coating was selected to achieve long hour milling.
Cutting Conditions
Cutting process
Roughing
Contour finishing
Bottom finishing
       
Tool
DCMS Φ0.3
PCDSE Φ0.5
Spindle speed
(min-1)
120,000
120,000
120,000
Feed
(mm/min)
150
100
50
Depth of cut
ap×ae(mm)
0.0015×0.1
0.002×0.001
0.0005×0.002
Cutting length
(m)
98
64
Coolant
Water-insoluble fluid
Cutting time
10hr 57min
11hr 2min
Comment
Difference in dimension was ±0.002mm
The surface roughness of side walls and flat surface were Ra17.0nm/Rz96nm and Ra0.7nm/Rz8nm.
In order to reduce the spindle load, using the tool of 0.3 when roughing.