Technology
DRB230 Tough-Pitch Copper Comparison of tool life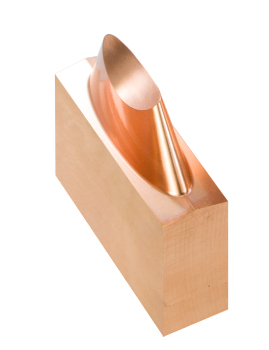 Material : Tough-Pitch Copper
Work Size 11 × 40(mm)
Cutting depth 15.2mm (1pc)
Cutting time : 1hr 45min (1pc)
Tool


●Long neck ball end mill specialized for machining copper alloy.
●Sharp edge shearing ability and DLC coating realized high quality and stable a long life machining.
●Machining copper tungsten electrodes is also effective.
Cutting condition
Process
Roughing
Semi-finishing
Finishing
Tool
DRB230
R0.5×4
Spindle speed
(min-1)
40,000
30,000
Feed
(mm/min)
2,400
2,000
1,500
Depth of cut
ap×ae(mm)
0.2×0.4
0.05×0.05
0.03×0.03
Stock
(mm)
0.07
0.03
-
Coolant
Water-insoluble fluid
Cutting time
55min
50min
Comment
By using same tool size to compare tool wear and surface roughness with conventional products.
In this machining, DRB230 approximated 6 to 7 times tool life comparing to conventional products.
Machining from roughness to finishing by using 1 end mill.
Comparison of tool wear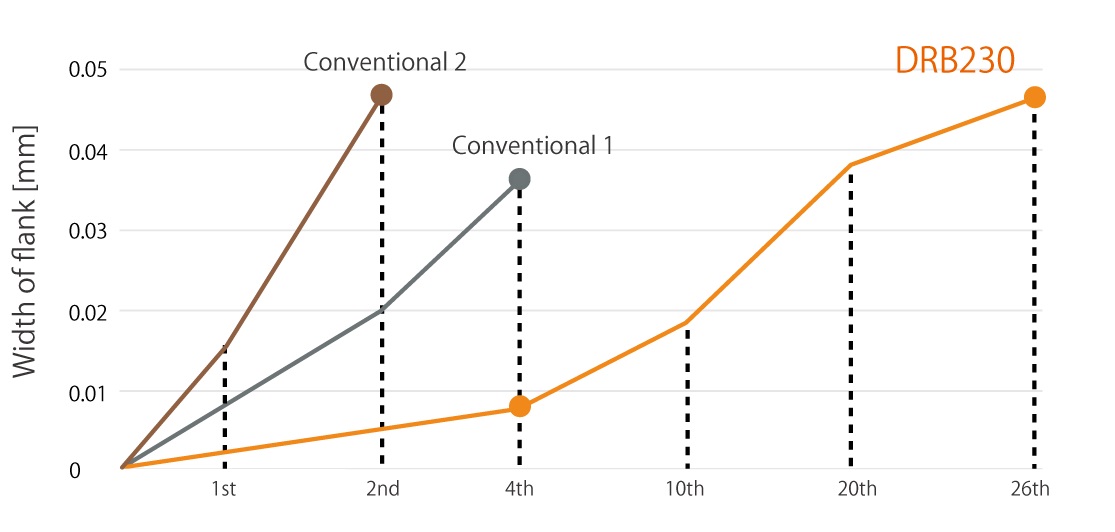 For image point, please see the graph below.
Condition of edge profile

Comparison of roughness