Technology
Hot Forging Mold
YXR3 / 60 HRC
SSPBL220 / CBN Long Neck Ball End Mill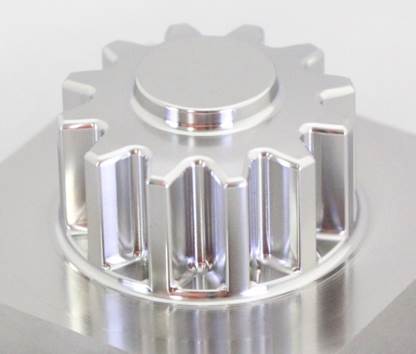 Work size : 50x50x18.2mm
Material : YXR3 60HRC
Cutting time: 4hr (only finishing)
Realized high quality surface by adopting spiral ball shape which improves sharpness of cutting edge and by strong back-taper shape to reduce chattering.
Tool


•Added longer effective length type to SSPB220 series.
•Realized deeper milling by adoption of spiral ball shape and strong back taper shape to improve both sharpness and the chipping resistance of cutting edges.
Cutting Condition
Cutting process
Finishing
Tool
SSPBL220
R1×14
Spindle Speed
(min-1)
6,000
Feed
(mm/min)
500
Depth of cut
ap×ae(mm)
0.03×0.03
Stock
(mm)
0.01
Coolant
Oil mist
Cutting Time
4hr
Comment
Roughness on top surface is Rz1.36μm and on side surface is Rz1.20μm.
Diameter recession amount after finishing is only 2μm.