Company
Story of NS TOOL Micro Edge
Background of Development
Short Version (1min 52sec)
Long Version (3min 10sec)
Background of Development
Short Version (1min 52sec)
Long Version (3min 10sec)
Cutting edge is thinner than hair
Micro Edge is the smallest end mill series for ultra-micro machining of NS TOOL.
This product is widely recognized as "NS TOOL for small diameter end mills" by outer diameter 0.01mm.
In a word, our Micro Edge can machine characters on the hair.
Here is the story about the development of Micro Edge.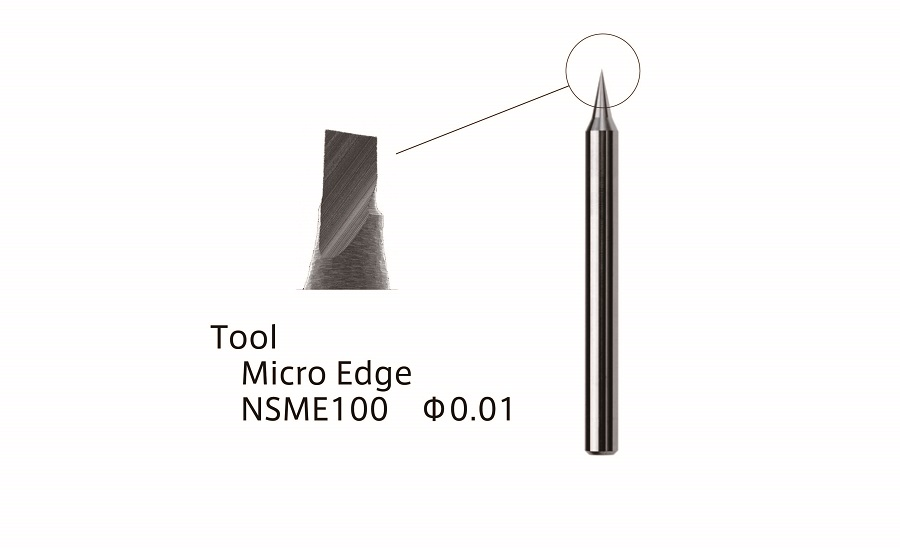 Machining characters on the hair

Incredible End Mill
"Can you make end mills with a diameter of φ0.1mm or less?"
Our challenge has begun with one such inquiry from a customer.
Nowadays, products with an outer diameter φ0.1mm or less are common, but at 1997, it was such an impossible task.
We did not make a promise immediately at that time. However, for the time being, we decided to start development.
Although the process was not simple, we succeed at the development of outer diameter φ0.05mm, and believe we could make it even smaller.We started to develop outer diameter φ0.03mm, and finally realized to achieve φ0.01mm.In the beginning of 2005, we realized to produce 10 times thinner end mill than other tool brand at that time.

Eight years after the idea was conceived.
It was a worthwhile challenge even took us very long time to achieve.
It should not take much time if it was only to process a small cutting edge.However, in order to make it practically usable as a "Cutting Tool (End Mill)", we have pursued fineness while seeking a more functional shape and making improvements.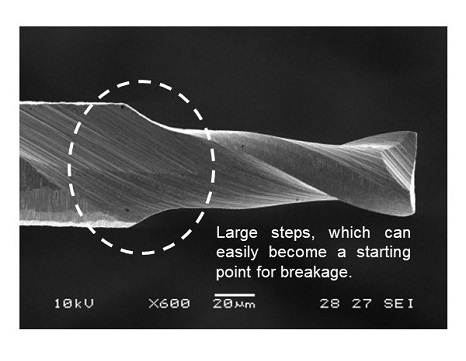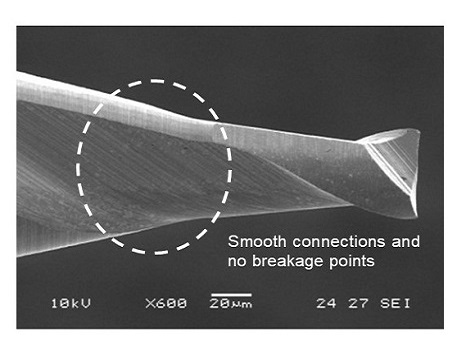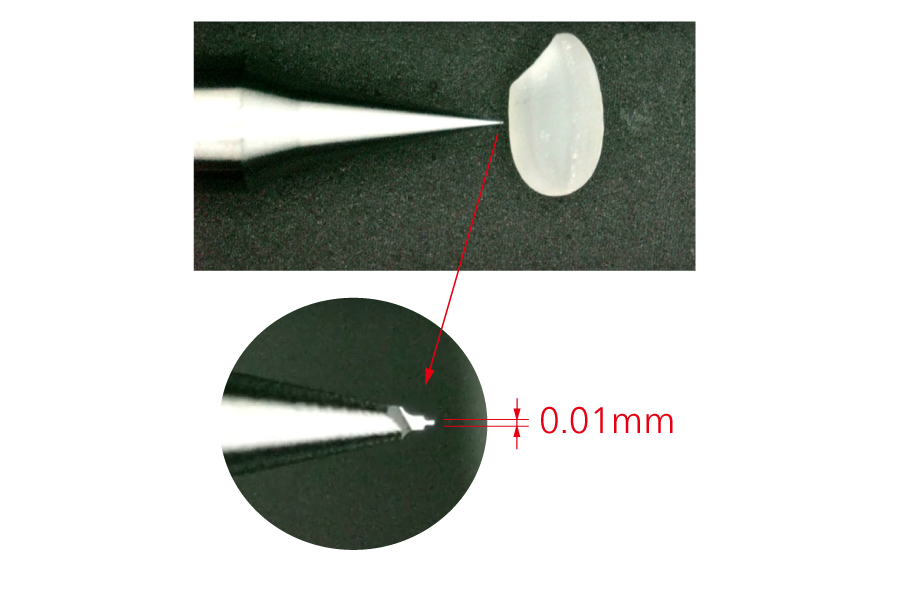 Difficulties in mass production
When we have succeeded to develop the outer diameter 0.03mm tool, the decision was made to commercialize the Micro Edge within the company.
Here, we were faced with the difficulties of "mass production".
In micromachining, changes in temperature and other environmental factors have a significant impact on the result.Continuously producing end mills with outer diameter 0.1mm or less at the same quality means that we have to keep adapting to the ever-changing environment, such as the temperature in the working area and the conditions of the grinding machine.

"Even after careful fine-tuning of the machines, many times when production was about to start, the environment had changed and we were back to the beginning."
"When the completed end mill was finally taken out, a finger faintly touched the cutting edge and the too-small cutting edge was broken and gone."
Through repeated trial and error and by standardizing accumulated experience, intuition and tips, we managed to achieve mass production.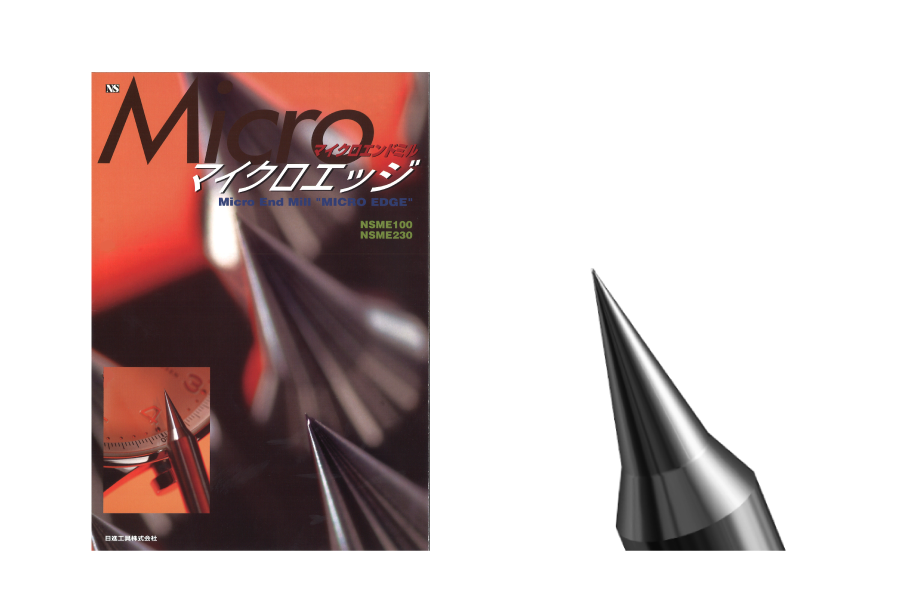 Realize micro size machining by milling
The meaning of Micro Edge series is to open up the field of "micro" size machining. During development, the machining accuracy in millimeters had already entered into overseas price competition. However, in order to take on the challenge of further ultra-micro machining to increase added value, advanced machining technology and high level equipment were required.
To answer "Can you make end mills with a diameter of φ0.1mm or less?", we faced the difficulty in this industry and stuck to solve it.
As a result, Micro Edge supported many companies being possible to take on challenge on ultra-micro machining.

"Shape the Invisible World!"
That is the mission of Micro Edge.
NS TOOL will keep supporting our customers to solve their questions and continue to develop new products in the future.