Technology
Resin Gear Model PEEK Resin RSES230 / Short Flute End Mill for Resin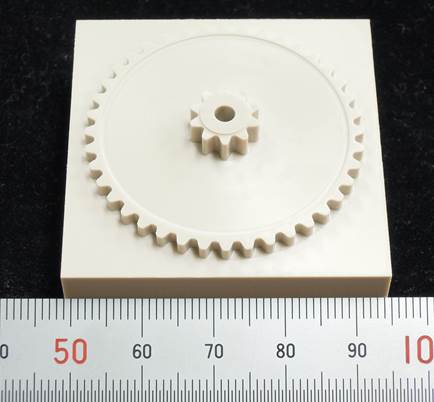 Work size:45×45×20(mm)
       (Profile height: 6.5mm)
Material: PEEK resin
Cutting time: 1 hr 40 min
RSES230 has developed for resin machining, realizes burr reducing milling with peerless sharpness.
Tool


•Applicable to nonferrous material such as Aluminum and copper.
•Eliminate the conventional problem of the long flute length.
Cutting Condition
Cutting process
Roughing
Semi-finishing
Finishing
Side
Flat
Tool
RSES230
φ6×9
RSES230
φ1×1.5×4
RSES230
φ1×1.5×4
Spindle speed
(min-1)
3,000
20,000
20,000
Feed
(mm/min)
1,250
800
400
Depth of cut
ap×ae(mm)
6.47×1
0.3×0.5
0.3×0.03
0.03×0.3
Stock
(mm)
0.03
0.03
-
Coolant
Water-soluble fluid
Cutting time
4min30sec
7min
1hr28min30sec
Comment
Fine surface at corner is realized even long neck type by adopting short length of cut.