Technology
Deep Milling Model
ELMAX / 60HRC
SSPBTN220 / CBN Long Taper Neck Ball End Mill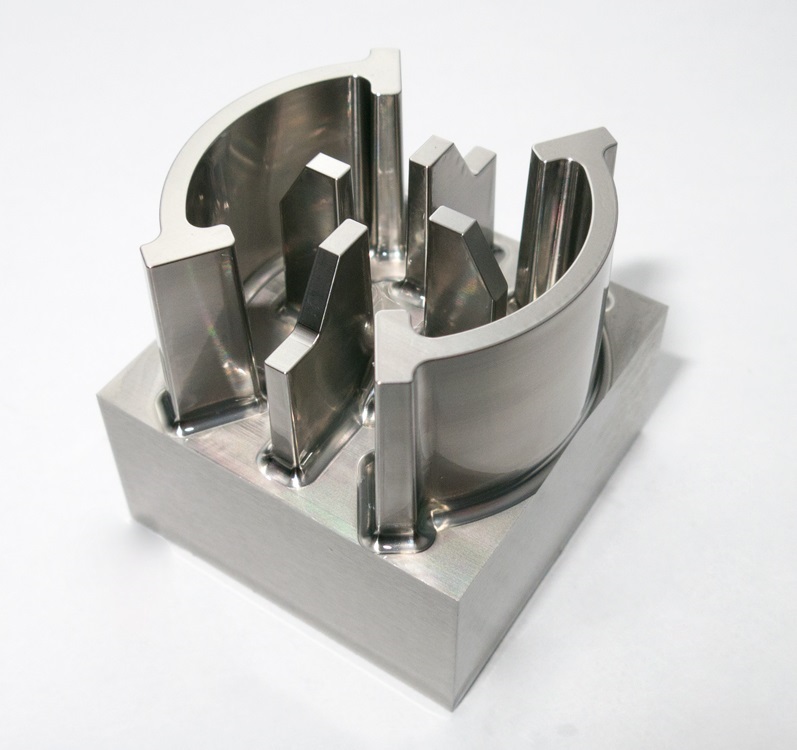 Work size : 30x30mm (cutting depth 15mm)
Material : ELMAX 60HRC
Cutting time: 18hr 9min.
High efficiency and highly precise processing are enabled by choosing a long taper neck type: SSPBTN220 to a processing shape.
Tool


•To realize more rigid, CBN Long Neck Ball End Mill with taper neck are adopted.
•Both efficiency and accuracy are increasing by taper neck design and spiral ball shape with improved sharpness in finish processing on deep milling.


•Higher rigidity brought by taper neck than existing long neck.
•MUGEN-COATING PREMIUM because of high heat resistance, realized long tool life for hardened steels.
•High effective machining achieved by NS original 3-flute design.
Cutting Condition
Cutting Process
Roughing*
Stock removal
Semi-finishing
Finishing
Tool
MRBTNH345
R1.5×1°×15
MRBTNH345
R1.5×1°×16
SSPBTN220
R1×1°×16
Spindle speed
(min-1)
15,000
10,000
10,000
16,000
Feed
(mm/min)
1,600
1,000
1,000
800
Depth of cut
ap×ae(mm)
0.1×0.3
0.1×0.1
ap0.05
ap0.01
Stock
(mm)
0.06
0.06
0.01
-
Coolant
Oil mist
Cutting time
7hr4min
22min
1hr56min
8hr47min
* 2 end mills used for roughing process
Comment
Surface roughness is from Rz0.423μm to Rz1.086μm.
Difference of dimension is delivered to the range from +0.004mm to +0.006mm, and even the deep milling for high hard metal can keep precision.
Furthermore, the tool condition is available continuously because tool R wear is only 2μm.