The most suitable end mills for long-hour finishing process of high hard materials. End mills made of CBN sintered compact with hardness one rank below of diamonds as a raw material for tools.
What is CBN Sintered Alloy?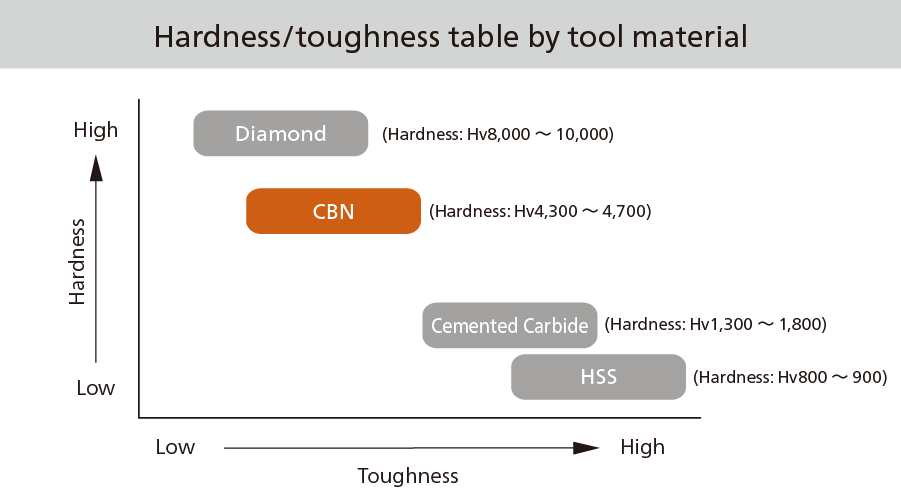 CBN (Cubic Boron Nitride) sintered alloy is second hardest material next to diamond as left figure, 3 times harder than Tungsten carbide, moreover having features of strong heat-resistance and high thermal conductivity. However, less tough characteristic of CBN often causes chipping of tool edge easily. Accordingly, CBN is recommended for finishing of hard materials with less cutting load on the tool edge, which guarantees extra-long tool life.
Rich Lineup, Suitable to Various Machining
End mills of the next generation realized by developing a unique tool shape utilizing the characteristics of the CBN sintered compact with high hardness and thermal resistance and establishing grinding technology. Long life and stable finished surface are provided in finishing process of high hard materials.
Radius End Mill
SSR200
φ0.1~2
SHR320
φ0.5~2

New Sizes Addition



SHPR400
φ0.1~3

SSF120
φ0.2~2
(Face milling)
Introduction of new size additional product
Released in June ,2021
CBN Super High Precision Radius End Mill
SHPR400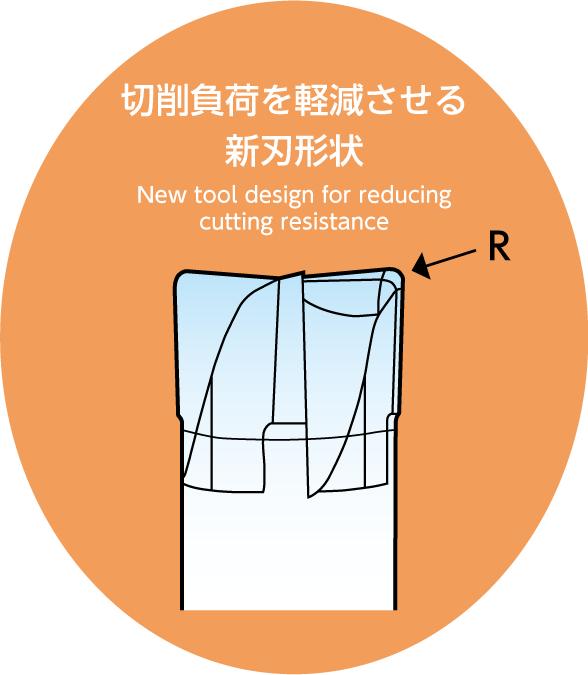 Tool profile: Radius ( 4 Fluts )
Material: Cubic Boron Nitride
Size: φ0.1~3 Total 109 sizes
Features:
・New tool design has been developed to reduce the cutting resistance
 and upgrade the finishing accuracy!
・Achieved higher efficient machining and more stable tool life in micro machining!
・The shank diameter accuracy is 2μm (-0.001 ~ -0.003).
・Supports shrink fit holders and realizes high precision machining performance.
For details, please click
●Machining accuracy is determined by tool.

●New tool design for reducing cutting resistance

Succeeded in reducing cutting resistance. Upgraded machining accuracy!
●Comparison to other brand

Optimized cutting edge shape enables micro finishing
for a long time and high accuracy machining
STAVAX 52HRC Micro needle
Work size:15 × 15 mm
    (Depth 1.2 mm)
Material:STAVAX (52HRC)
Coolant:Oil mist
Total machining time:24hr 53min
Measuring position
Needle tip diameter
Target [mm]
Actual [mm]
A
0.010
0.009
B
0.013
C
0.013
D
0.013
Measuring machine: Nikon
Process
Roughing①
Roughing②
Roughing③
Roughing④
Finishing
Tool
MHRH430R
Ø2×R0.02×4
SSPB200
R0.2×1.2
SSPB200
R0.2×1.2
SSR200
Ø0.3×R0.02×1.5
SHPR400
Ø0.3×R0.02×1.5
Spindle Speed
[min-1]
20,000
40,000
40,000
40,000
40,000
Feed[mm/min]
1,000
750
500
500
25~300
Depth of cut
ap×ae [mm]
0.01×0.5
ap 0.005
ap 0.005
ap 0.003
0.003×0.04
Stock
[mm]
0.01
0.01
0.05
0.04
-
Time
8min
3hr 19min
2hr 45min
3hr 51min
14hr 50min
※Using 2pcs for finishing.